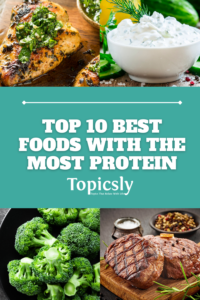 Protein is made up of amino acids and is an essential nutrient for growth and repair.
It is found throughout our body, including muscles, hair, nails, bones, and body tissues and organs.
Consuming an adequate amount of protein is vital and cannot be stressed enough, so here is our list of the top 10 foods with the most protein.
List of Best Top 10 Foods with the Most Protein
| Serial | Most Protein Foods | Total Gram | Contains Protein |
| --- | --- | --- | --- |
| #1 | Lean beef fillet | 100g | 36g |
| #2 | Chicken breast | 100g | 30g |
| #3 | Cottage cheese | 100g | 10g |
| #4 | Pumpkin seeds | 100g | 30g |
| #5 | Boiled egg | 100g | 13g |
| #6 | Lentils | 100g | 15g |
| #7 | Tuna steak | 100g | 32g |
| #8 | Broccoli | 100g | 2.8g |
| #9 | Greek yogurt | 100g | 10g |
| #10 | Quinoa | 100g | 5.8g |
1. Lean Beef
Lean beef is a common food for athletes and bodybuilders because of its high protein. Grill it, roast it, or even make a delicious steak of it; it is to fuel up the muscles with enough protein.
It can also be dried and made into a beef jerky as a high-protein snack for the people who are always on the run. 100g lean beef fillet contains 36g of protein.
2. Chicken Breast
Chicken breast is a high protein, low-calorie food and is a popular food source of protein. It is both enriched with a high amount of protein and is delicious to eat in various dishes.
It is easy to cook and can be grilled, barbecued, boiled, or cooked in a curry. 100g of skinless chicken breast contains 30g of protein.
3. Cottage Cheese
Cottage cheese is a dairy food that is high in protein and low in fat. It is also rich in vitamins and minerals, such as calcium, vitamin B2, selenium, and many others.
Cottage cheese used in salads, pasta, dips, and various other dishes to make it tastier and also fulfill one's intake of protein.
The protein content of 100g of cottage cheese is 10g.
4. Pumpkin Seeds
Pumpkin seeds are high plant-based protein foods that are eaten mainly as a protein snack. They are high in protein, antioxidants and are full of beneficial fats.
If you want to gain the maximum amount of protein and nutrients, it is preferred to eat raw pumpkin seeds rather than the roasted and salted variant snacks 100g of pumpkin seeds contains 30g of protein.
5. Egg Whites
When you hear someone say protein, you are most likely to hear them utter the word 'Eggs' with it.
Eggs have been the most common source of protein, particularly egg whites, due to their high availability, convenient way of consumption, and vast ways of cooking and not to mention the delicious taste.
It is a high-protein food for muscle building. The protein content of 100g of the boiled egg contains 13g of protein.
6. Lentils
Lentils are a type of legumes and are edible seeds. They contain lots of protein, fiber, and are a great source of minerals.
You will find good protein in lentils that can even serve as an alternative for meat, hence being a high protein food suitable for vegetarians.
Cooked and combined with other foods, it can provide a substantial amount of protein and other healthy nutrients. 100g of lentils contains 15g of protein.
7. Tuna
Tuna is a nutritious fish that is eaten all over the world. It is filled with omega-3 fatty acids, loaded with nutrients, and is packed with protein. Its rich flavor allows it to be worth adding to your meal plan.
It's readily available, and wild tuna should be picked to gain the goodness of the nutrients and richness of the taste. 100g of wild tuna steak contains 32g of protein.
8. Broccoli
Broccoli looks remarkably like a tree and also makes a person strong like one. It is amongst the top high-protein vegetables that also include other prime nutrients.
Broccoli can either be enjoyed cooked, boiled, or raw but the latter is more preferably used. 100g of broccoli contains 2.8g of protein.
9. Greek Yogurt
Greek yogurt is another dairy product that contains a high protein ratio. It has a thick, creamy texture and is used for salads, cooking, or can be eaten plain.
It contains many other vital nutrients and goes well with an assortment of dishes. 100g of Greek yogurt contains 10g of protein.
10. Quinoa
Quinoa is a whole grain, a high protein vegetable, and is considered a 'superfood.' Along with being a high protein food, it is also a low card rice substitute making it ideal for an individual that wants to lose weight.
Quinoa is an excellent source of protein for vegetarians and vegans. A 100g of Quinoa contains 5.8g of protein.
Conclusion
Protein is a vital aspect of our diet and is responsible for many body functions and compositions. It is crucial to have an intake of an adequate amount of protein.
Micro and macronutrients also are taken in suitable quantities for good and proper health. You can keep these top 10 foods with the most protein in your diet list for better diet performance.
You May Also Read: